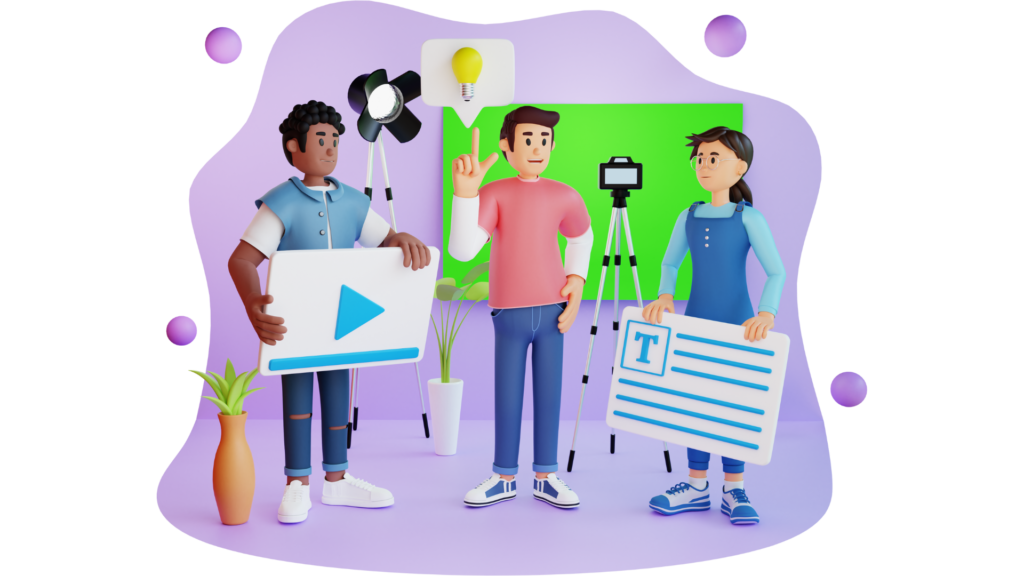 Isn't it better to watch a 3 minute video rather than reading through a 3 page long text document? Videos are undoubtedly the dominant format for people to consume information. Motion pictures, moving objects/scenes, voice, music and text are combined together beautifully to create videos that help us understand the subject matter and remember it for a long time. It is no surprise that common people remember movie scenes for years together while they easily forget a text paragraph read only a day earlier.
For businesses, videos have a high value. Corporate videos that showcase the products, services, infrastructure, team, clients and achievements are a very effective tool to generate trust in potential clients.
At Wise Elephant, our team is trained in professional video making software tools. We make different types of videos like animations (2D & 3D), compilations, recordings, interviews, 360, stop motion, whiteboard, mixed media, VR, live action and video shoots. Depending on the type of your business, variety of your products/services and the intended purpose, we help you with end to end video production services. It includes conceptualization, crew, actors, location, studios, camera equipment, recording, post production, VFX and distribution. Following steps are taken to make business videos:
Detailed study of the business
Deciding on the type of video (based on application)
Conceptualization 
Production
Post production
Delivery
Do you have
any questions?
Having your corporate video or product/service videos greatly reduces the time consumed in explaining your business to potential consumers. Videos are easy to share and people prefer watching a nice video instead of going through lengthy brochures. Videos are also helpful for tips, instructions, safety, product demo, employee introductions, brand recalls and attention catchers.
Making a video for your business might sound costly in the start, but the benefits you get in the long run far outweigh the costs incurred. Brands with good videos are perceived as high value and people tend to pay high value for their products & services.
Animated videos of your brand can be made in budgets lesser than full production videos that involve shooting, locations, camera crews, actors and related stuff. Animated videos can also be as effective as actually shot videos and sometimes turn out to be even better.